Pathfinder Release 3.7 is now available to all users and features numerous impressive program enhancements. The new storage management delivers greater overview of the IT assets in your company and supports IT lifecycle management. Another new feature is the user-friendly preview for device templates. Users who rely on accurate documentation of the fiber infrastructure will be thrilled with the improvements in cable management and with the new cable overview.
Storage management
With version 3.7 Pathfinder displays an up-to-date inventory information. The storage management has been firmly integrated into the sidebar as a new feature. All IT assets that are in the storage room are listed there. Assets can be moved to and from the storage rooms via drag & drop. Customizable tables allow you to categorize and group the storage room inventory and provides options to export the tables as well. All additions to and withdrawals from the storage room inventory can thus be documented easily and incidentally. The new storage room management is a helpful feature that will actively support you in your IT lifecycle management from here on.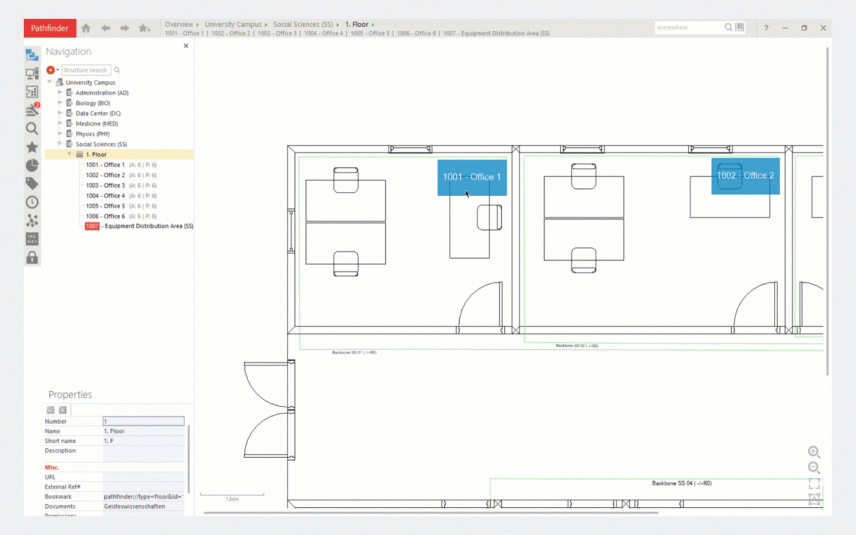 Device preview
Around 20,000 device templates are currently available for import in the online catalog. The new Pathfinder release adds a preview section to the existing import dialog window. This means that a preview of the respective device template is now shown on the screen without the need to even import it first. Searching for the right network devices or deciding on which templates to import has never been easier. We are also supporting you with better compatible module searches. Using the "Show modules (by slot type)" option, Pathfinder will deliver the matching modules and shorten the search times tremendously.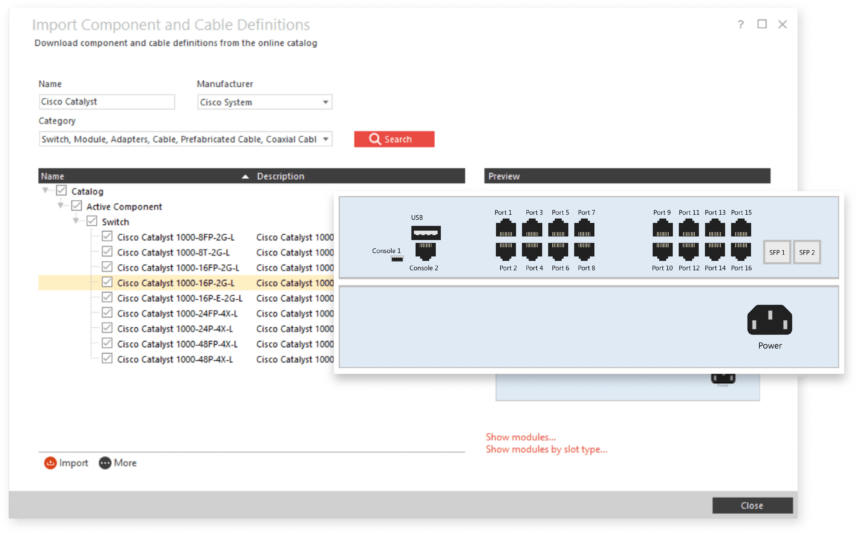 Cable overview
As a specialized cable management solution, Pathfinder will support you even better in the planning, documentation and management of fiber infrastructures in the future. With the 3.7 release, we now offer all users the ability to more accurately document extensive fiber infrastructures.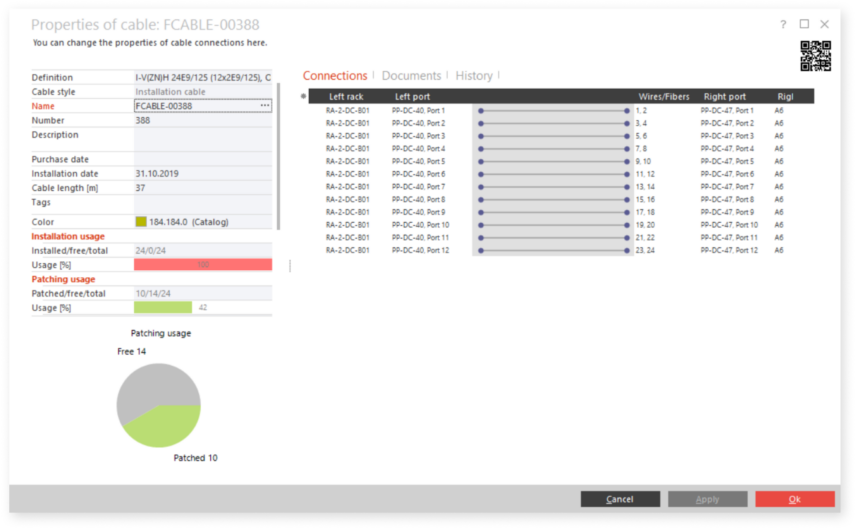 You can view and edit fiber usage and utilization directly in the properties dialog. Operators of large fiber optic networks know that detailed documentation of individual connections by fiber is an indispensable prerequisite for meaningful evaluations and reports. Additional requirements such as dedicated lines, dark fiber or system switching fibers can be better assessed and planned in the future through the new performance overview.
The new features overview also includes the following functions:
Y-connection support
Display of individual connections by fiber or core within a cable with a start and end point
Editing of a single connection via the extended connection dialog is now possible
Display of free wires, free fibers and free cores
What's new?
Our team is ready and waiting. Book a 15-minute Q&A about the new release on a date of your choice
Book an appointment now