Cable Management
Plan, document and check connections
A clear view of the physical network layer. With Pathfinder, you have cabling and passive technologies sustainably and securely under control.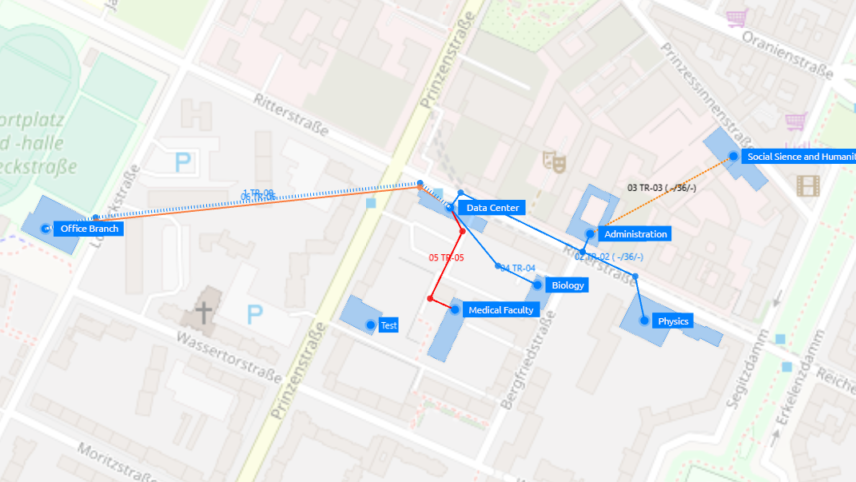 Smart patching
Pathfinder supports IT and network admins especially in the area of cable management. Complex cable connections are mapped quickly and easily. With Pathfinder, you can conveniently plan tasks and connection areas in advance and check for inconsistencies. Users can also use the tool to fully document switch and distribution panel layouts.
Documentation "on the side"
As a cable management software, Pathfinder supports you effectively and quickly in all work steps that occur daily in the area of cable management. The tool enables documentation intuitively and "on the side", i.e. alongside your actual day-to-day business.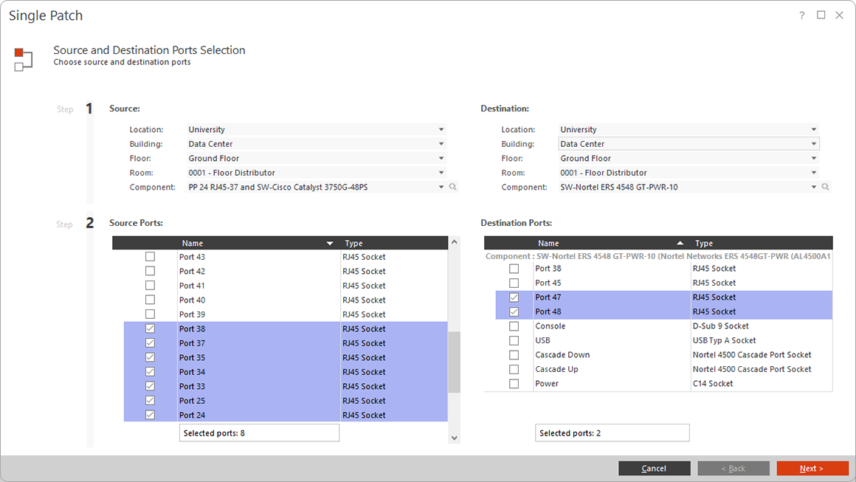 Cable sharing with Pathfinder
Pathfinder offers the user various ways to map the used and unused wires of a network cable for any number of network connection. Cable sharing is mapped via inlets (AMP connectors), T/Y adapters, RJ21 cables, port splitters and more.
Inside the application
Pathfinder fully and accurately captures and visualizes all types, topologies and transmission techniques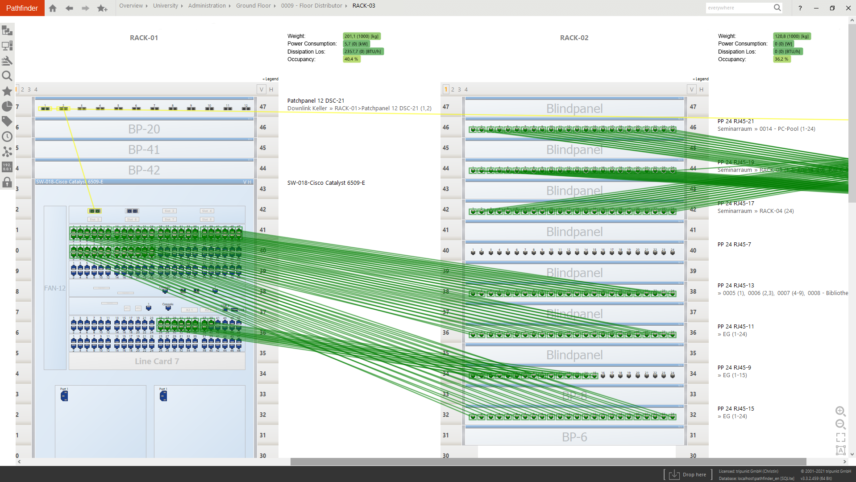 Realistic mapping of the entire patch cabling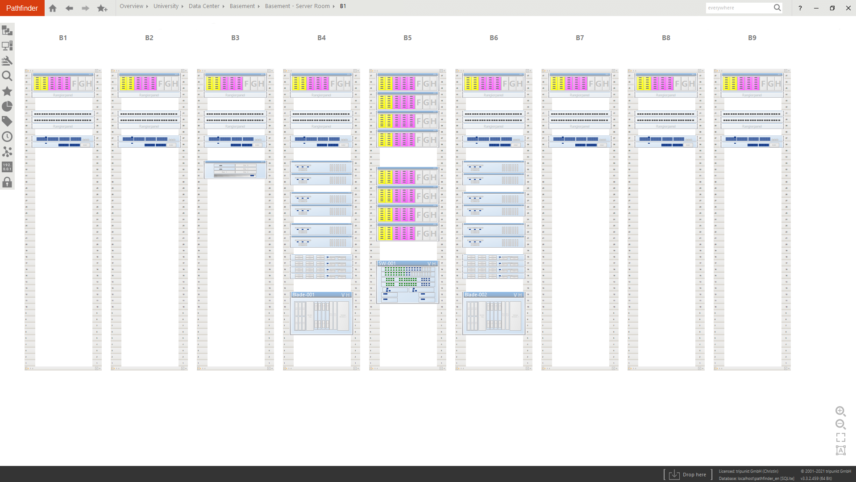 Occupancy planning and professional control cabinet visualization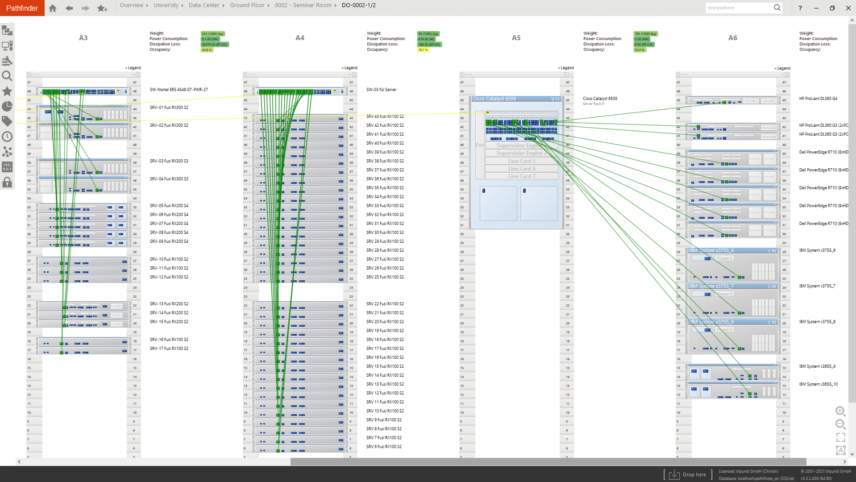 Better overview of complex cabling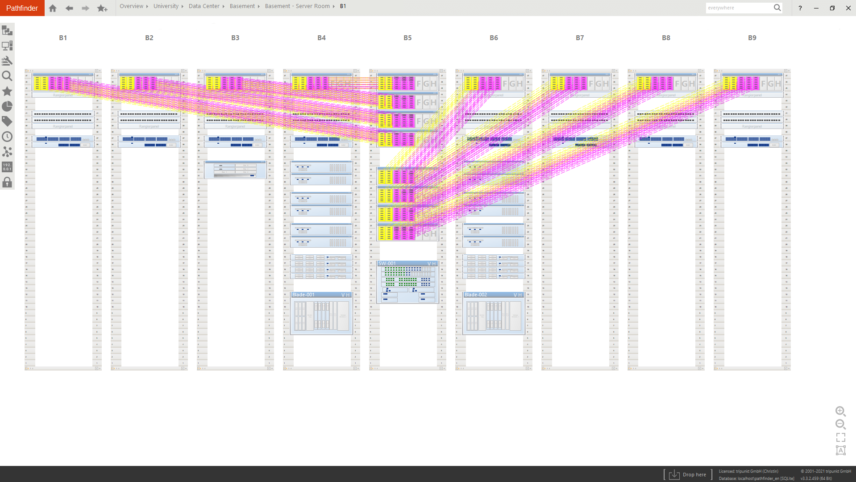 Comprehensive mapping of fiber optic cabling including adapter panels
Features at a glance
Cable management
Signal tracking across all devices/cables
Documentation of the primary, secondary and tertiary cabling
LAN, MAN, WAN and GAN documentation
Multiple site cable management
Map telephone and power lines
Representation of the complete physical network path with all passive intermediate distributors (panel, socket, strip, etc.)
All generic cable types are already included
Extensive print, report and export functions
Patching
Visual and interactive representation of the patches with freely selectable cable colors
Display of port states (patched, reserved, defective, free)
(Re-) patching via Drag&Drop
Plausibility checks (plugs, circle formation, etc.)
Export patch lists and port overviews
Mapping of cable sharing (e.g. AMP) and port splitters
Auto-naming of patches based on definable rules
Wizards for single and bulk patches
Become a Pathfinder!
Find out why over 500 well-known companies trust us and how Pathfinder helps map your IT network.