Much more than just a map
The search for background images has finally come to an end. Location overviews are now created based on OpenStreetmap. The map display has been optimized and uses the information from the free world map to automatically detect your buildings and render a 3D model.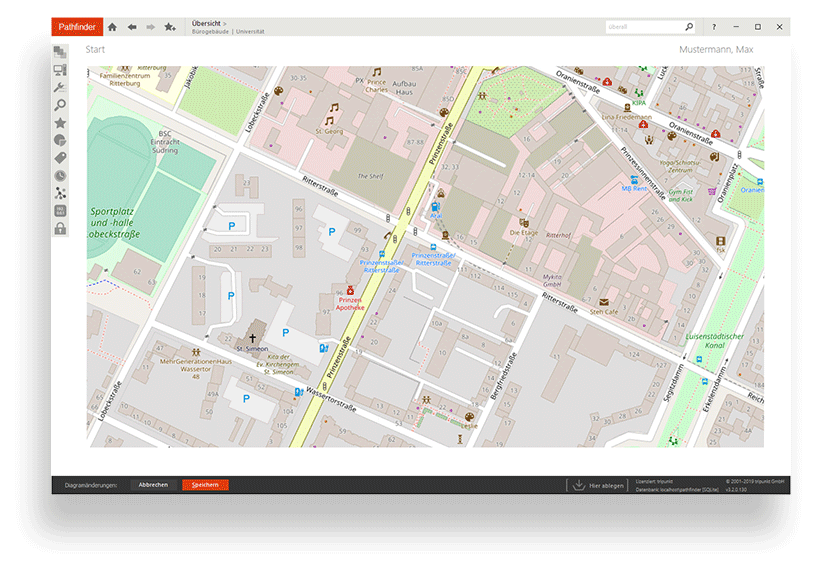 With just a few clicks, you can create locations and spatially visualize buildings. The perfect foundation for your site documentation. Add routes and primary cabling through trays between buildings and use the new waypoints to map cable routing according to the real world.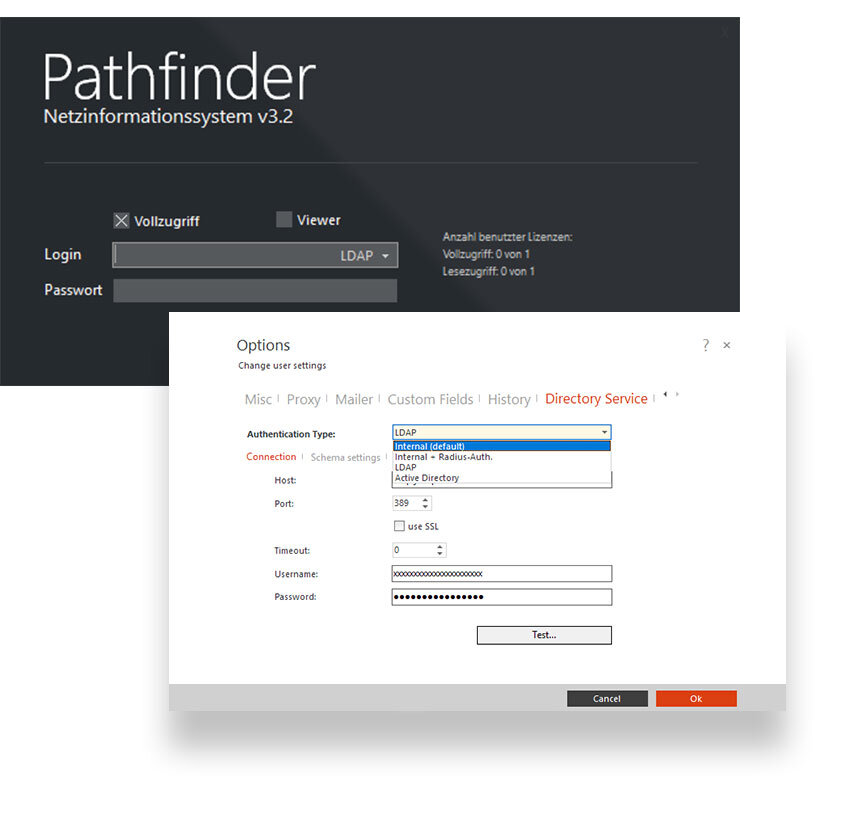 More security for companies
Directory services are becoming an increasingly important part of the IT infrastructure. Especially in large networks with many users, they offer enormous advantages and considerable potential for streamlining day-to-day IT operations.
With version 3.2, Pathfinder easily connects to your company's centralized user management system and becomes an integral part of your security model.
In addition to directory services such as Active Directory and LDAP, Pathfinder also offers a connection to the Radius protocol for companies with a distributed network structure. Pathfinder 3.2 makes it easy for you: From now on, use the directory service that you are already successfully using in your company for authentication and group assignment.
One interface, many options
REST API has been added to the existing Pathfinder application server. You can access Pathfinder data quickly and efficiently via the new interface. An extensive library of call functions are included for this purpose as well.
At the request of our clients, the new module of Pathfinder allows communications with other third-party systems. From now on, the new interface not only enables the exchange with third-party applications, e.g. ticket systems, Beta testers also use the new API to create information in Pathfinder e.g. tags. Prerequisite for the use of the new module is in the installation of service. Call us, we will gladly support you with the technical implementation.

Inventory management
Pathfinder 3.2 now supports storage rooms for storing devices of any type. This means that the entire life cycle of a device can be fully mapped. The new Pathfinder helps you keep track of the material flow; from storage to installation at a destination to scrapping.
Create storage locations as they actually exist in the company (main warehouse, sub-storage, etc.). For storage rooms, Pathfinder replaces the visual representation with a clear tabular representation. Thus, the entire inventory content is visible and material requirements can be realistically determined.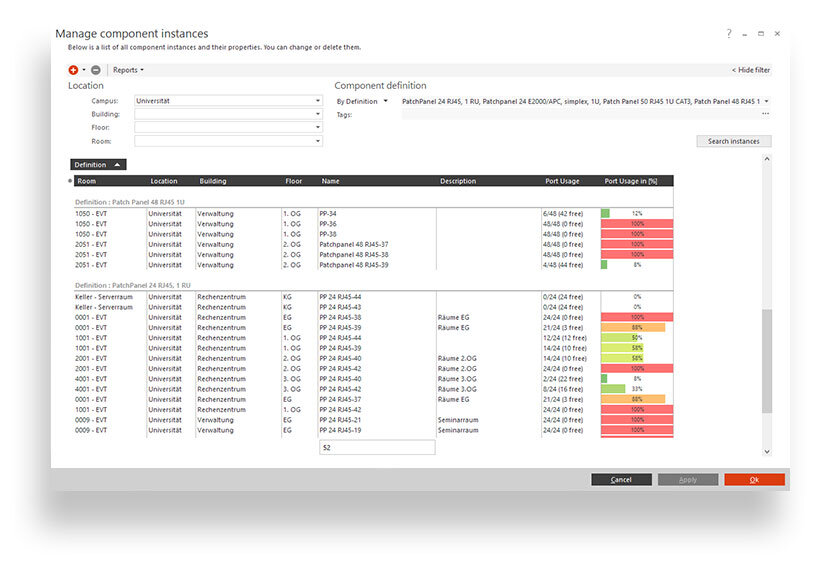 Identify bottlenecks
Continuous monitoring of network utilization is essential to identify bottlenecks and detect unused resources.
Pathfinder 3.2 breaks down the total number of free and used ports per device and color codes them for even more clarity.
For example, the utilization of a switch can be called up at the push of a button via the properties dialog. From version 3.2, cable utilization is also visualized down to the wire/fiber level. In addition, you have the option of storing threshold settings. Use the new feature to improve the port utilization of devices and detect exceeding threshold values in advance.
Work order to go
Pathfinder Mobile makes your daily work easier and supports IT-teams, especially in collaboration. In the warehouse, in front of a network rack or in the data center – with the updated app, you now have access to important information even faster and at all times.
Version 3.2 delivers perfect interaction between Pathfinder Mobile and Clients. Plan future work steps on the PC and send them to a colleague on site directly to their smartphone.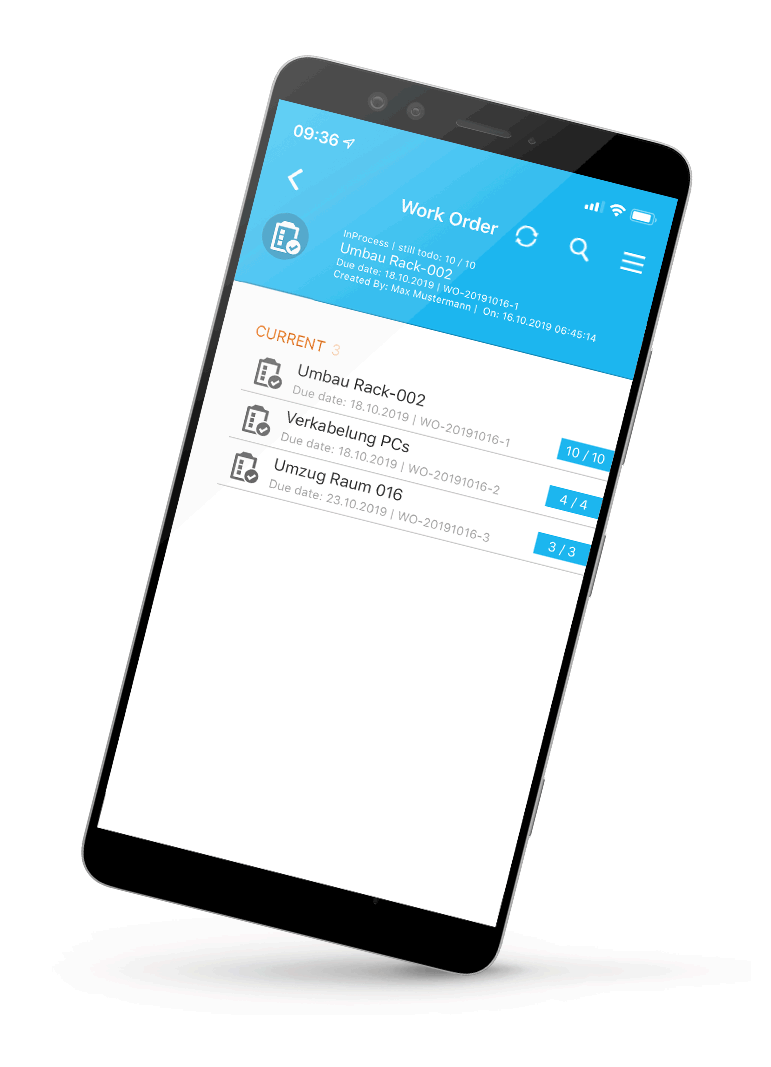 The app helps to optimize workflows and avoid redundant tasks. Benefit from all the new ways of planning, executing and documenting work on the network and in team projects. Pathfinder 3.2 makes network documentation even more fun.